Much of my career has been project-based. Here is a sampling of collaborative work over the years.
Ghetto Genius Universe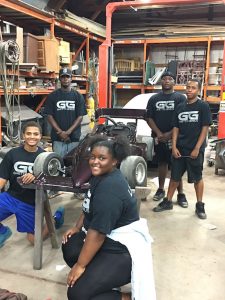 Since 2016, I have been working with Dr. Will Patterson on informal, after-school projects related to making science, technology, engineering, and math hip hop. Dr. P (as I call him) connects so many people across Illinois, the Midwest, and the nation: it is inspiring to work with him, mainly through the Don Moyer Boys and Girls Club in Champaign.
A group of students from the University of Illinois with whom I worked produced this video about a motor sports project with remote control cars that gives some idea of the energy and approach of Dr. P's Ghetto Genius. Dr. P explained some of his ideas in this TEDxUIUC talk in 2017.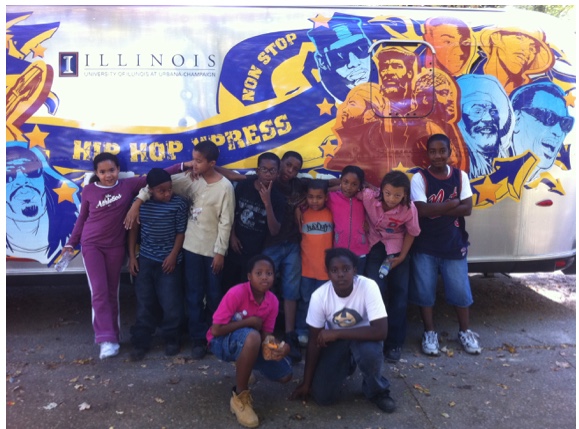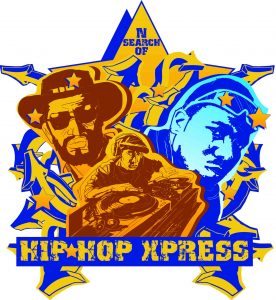 In 2019, we got funding from the University of Illinois Presidential Initiative to Celebrate the Impact of the Arts & Humanities to re-launch a mobile classroom and sound studio, the Hip Hop Xpress. The image at left is by artist John Jennings, who also designed the skin that wraps the bus.
Revisiting Murals, Animating Neighborhoods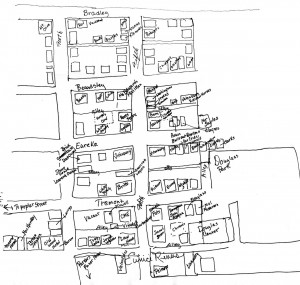 With the (then) Chicago-based artist Angela Rivers, and University of Illinois faculty, staff and students–Ryan Griffis (Art and Design), Noah Lenstra (Graduate School of Library and Information Science), Ken Salo (Urban Planning), and Sam Smith (Krannert Center for the Performing Arts)–in 2010 I helped write and produce a booklet on the mural in Champaign at Fifth and Park Streets that Angela Rivers designed and painted (with help from local youth) in 1978. The booklet, Revisiting Murals, Animating Neighborhoods, was funded by the Frances P. Rohlen Fund of the UI College of Fine and Applied Arts. Another key partner was eBlackCU.net, a project organized by Noah Lenstra and Abdul Alkalimat. The mural, now destroyed, was created to honor Ms. Rivers' family and others who moved north during the Great Migration.
Ms. Rivers conducted memory mapping workshops and led walking tours about local history during her several visits to Champaign in 2009-10. This detailed map of north Champaign was drawn by Angela Rivers' mother, Mrs. Eunice Nelson Rivers, during one of the workshops in 2009.
In the fall of 2012, Angela and I co-taught a class at the Osher Lifelong Learning Insitute (OLLI) called "Champaign-Chicago: Celebrating an African-American Arts Corridor." This was a continuation of the interview that we published in the summer of 2012 in AREA Magazine.
Respect Native Hosts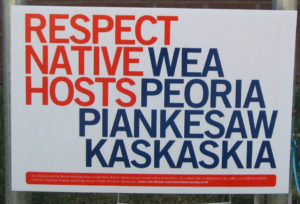 During the spring and summer of 2009, I was part of a group of local artists and activists that responded to the vandalism of "Beyond the Chief," an installation of twelve signs by Edgar Heap of Birds, on the campus of the University of Illinois. In collaboration with Heap of Birds and the director of American Indian Studies, Robert Warrior, a group of us produced 100 yard signs in solidarity with the commissioned work of Heap of Birds, about which I blogged quite a bit. Distributing the RESPECT NATIVE HOSTS signs was eye-opening for me: I think many people who have been enormously ashamed and frustrated with the festering legacy of chief Illiniwek felt very keen to get a yard sign that would make some kind of positive statement. The sign was designed by Ryan Griffis, with input from Brett Bloom, Bonnie Fortune and Sarah Ross. Bonnie Fortune wrote the press release, and I did a couple of media interviews and helped with distribution. Ten days after the initial announcement about the signs, they were all in people's yards!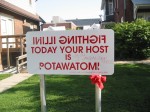 There were a number of acts of vandalism against the signs by Edgar Heap of Birds, one of which is shown here. The red cloth was tied around the pole in solidarity with the artist. Many other signs were bent, and one was stolen. The signs have now been removed and are in storage.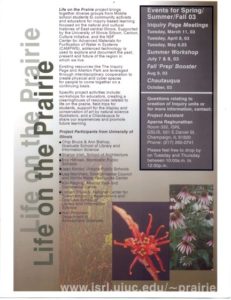 Another project that continues to echo:
a collaboration called Hands On, Plugged In: Life on the Prairie, that involved middle school teachers and faculty and staff at the University of Illinois.