Pictured above, Berlin-based Danish artist Jeppe Hein's "Follow Me" (2009) offers a chance to gather different perspectives. My current research is going in a few directions.
With my research on artist Stephen Willats finished, I am thinking more about alternative pedagogies, a topic that has interested me since my involvement with the Urbana Project on Educational Democracy (UPED) in the 1990s. Dr. Will Patterson, Joe Bolton, I and others organized Street College, in the summer of 2018 and 2019 in a local Champaign (IL) park, offering youth the wherewithal to experiment with DJing, robotics, remote control cars, illustration, drones and building boom boxes. Thanks to support from the Don Moyer Boys & Girls Club, the Champaign Community Coalition, and the Urbana Champaign Big Broadband Community Benefit Fund, we had a lot of equipment to play with, repair, and make hip hop. The pandemic slowed us down a bit, but we offered another Street College session in Rantoul in 2021 in collaboration with DREAAM. For more information on the Hip Hop Xpress, visit this website.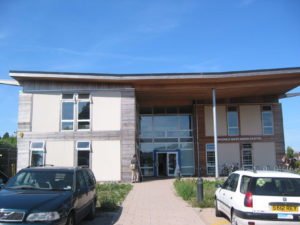 I'm also reading and thinking more about the amazing work at the Knowle West Media Centre (KWMC) in Bristol, UK, with which I worked 2011-14. "The University of Local Knowledge" (ULK) launched there in late June 2010. The image to the left shows the Knowle West Media Centre. I have thoroughly enjoyed working with Carolyn Hassan and Penny Evans of the KWMC; Penny is the creative director of ULK and she and I co-authored an article in The International Journal of Progressive Education in 2013 on participatory structures in informal education.