Chicago-based artist Alberto Aguilar has assembled a wonderful exhibit, "moves on a human scale," at Gallery 400. The show closes June 15, 2019. I left feeling buoyed by family love and delighted at the way the Aguilars–four children, Aguilar's wife, Sonia, and Alberto himself–all seemed invested in daily art creation. For example, "Pizza Parade" of 2012 involved the family walking along Archer Ave (which extends from the Loop through Garfield Ridge, where the Aguilars were living) visiting every pizza place between Pulaski and Harlem. One of Aguilar's daughters had sparked the visits because she wanted to explore the small shops along the route. So, the family entered each pizza store with the youngest child dressed in a pizza outfit, offering handmade buttons and Aguilar's business cards. They asked for free pizza to taste; some shops gave them a whole pizza!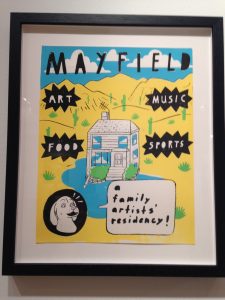 Daughter Madeleine Aguilar created a screen print in 2018, "Mayfield," imagining a family residency for artists and their families to come together with food, sports, music, and art and a dog for a mascot. Thus the artists would not need to leave behind their families to undertake a residency. It's no surprise, of course, to find the Aguilars on the Cultural Reproducers site, shown (among other things) taking a group rest at a museum, during visits to Florida and Spain in 2011 and 2012..
A poignant and pointed work that Aguilar did with artist John Preus, "Left Behind (City Hall)," 2017, emerged from the controversial closings of 50 Chicago public schools. Preus salvaged furniture from some of the schools and shared the items with other artists for an exhibit called "Infinite Games." For his part, Aguilar "adopted" (his term) some of the desks and chairs and took them around to various site. One desk he left behind at the entrance to City Hall, sure to catch the attention of bureaucrats coming and going.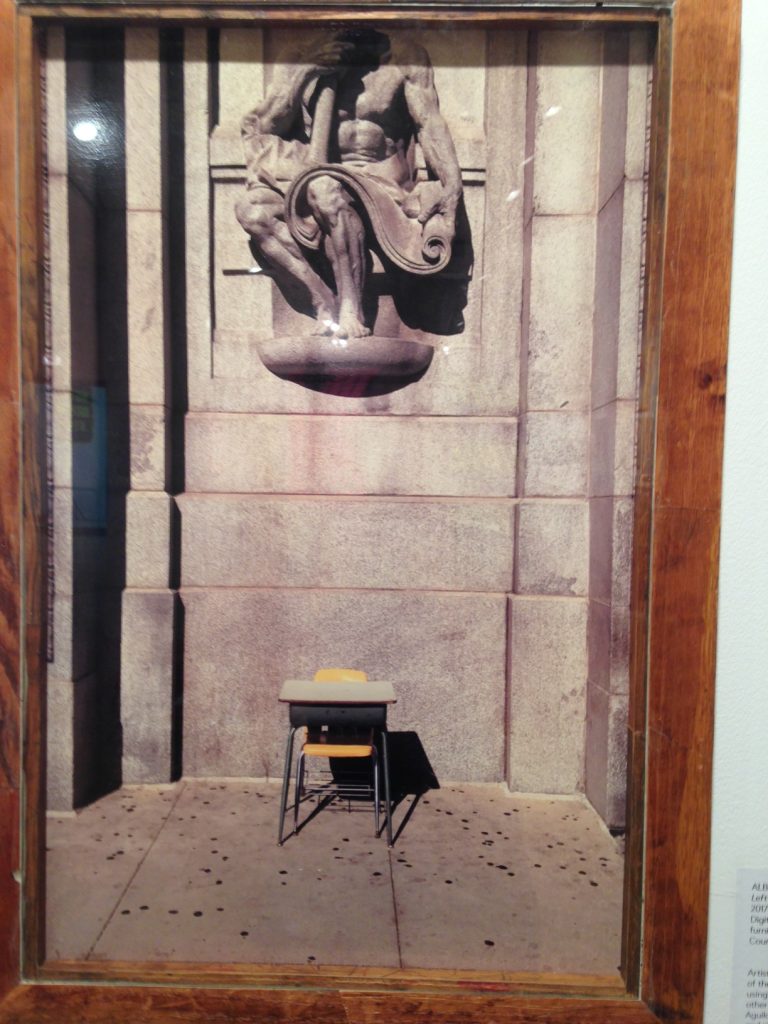 Aguilar created "Shelf Portrait" using ordinary household objects to mark every year of his life–36 years at the time of this iteration, in 2009. Each of the six shelves is six feet long, as long as he is tall.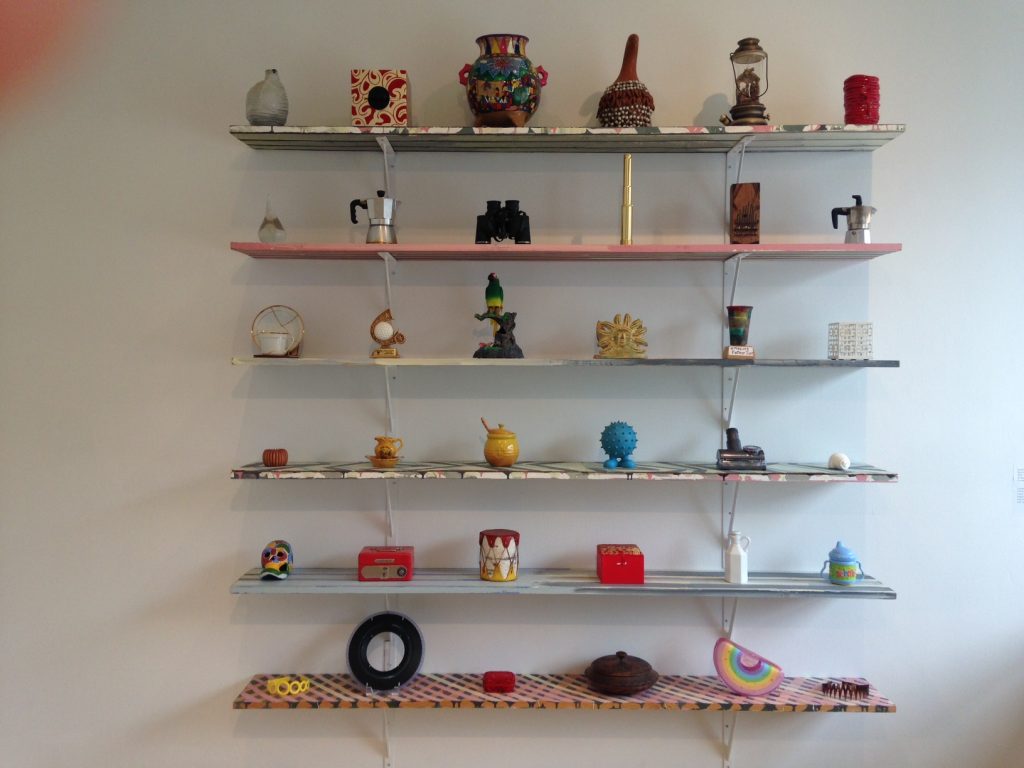 Again using everyday objects, Aguilar creates sculptures that juxtapose items in surprising and non-functional ways. Many photographs on display show some of these experiments, but the two illustrated here are actual creations woven and stacked together.
Alberto Aguilar, Ball Corral (Home), 2017

Alberto Aguilar, Office Sandwich (Gallery 400), 2019
The last work I'll mention here is a series of transformations of art postcards. While Aguilar was an artist-in-residence at the Art Institute of Chicago, he used stickers to alter reproductions. A vitrine in the show displays a number of these alterations, but the Monet image shown below was enlarged into a large reproduction of a reproduction.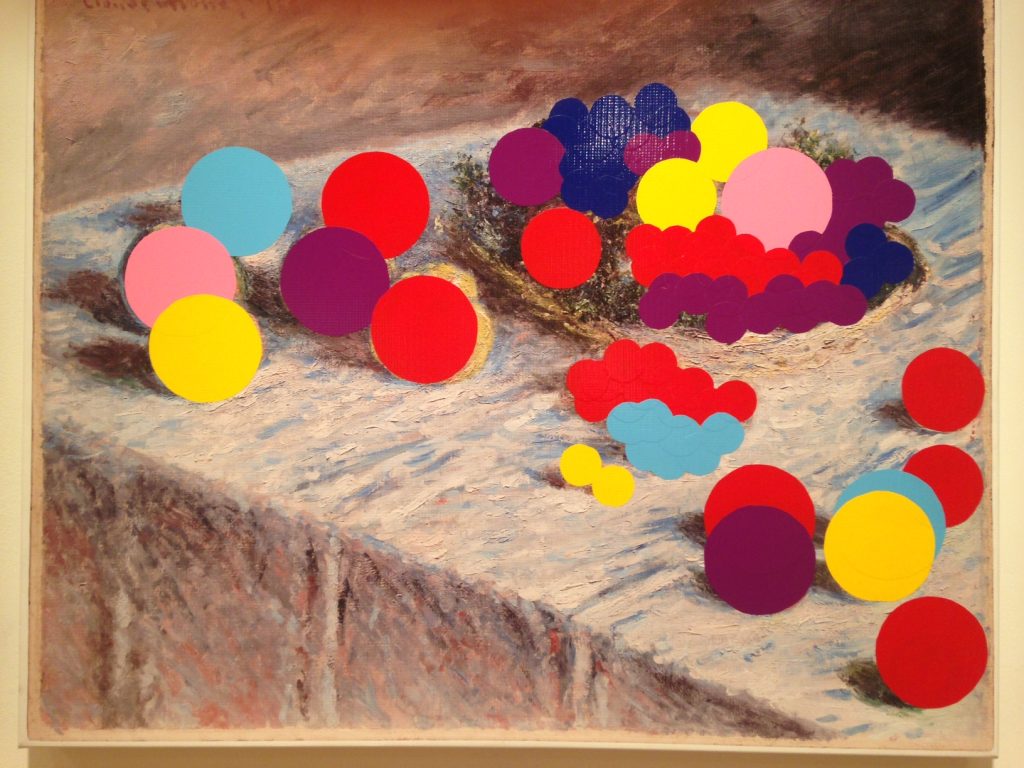 Thanks for the refreshing and thought-provoking exhibit!