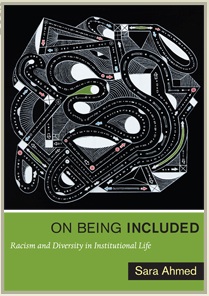 I created a game, Admin Lingo Bingo, to play at meetings where administrators are talking about diversity. I pulled the terms used in the bingo cards from the MASSMAILs from the University of Illinois administration this fall. First was the August 22, 2014, email from Chancellor Phyllis Wise, "The Principles on Which We Stand," in which she addressed the "decision not to recommend further action by the Board of Trustees concerning [Professor Steven Salaita's] potential appointment to the faculty." A second message, "An Atmosphere for Learning," followed that same day from President Easter and Board President Kennedy. Then, in this month of mandatory ethics testing for us, the staff of the University, when many of us are mega-annoyed at this seemingly sham exercise, Chancellor Wise sent another email on October 10 to "reaffirm our campus commitment to equal opportunity, affirmative action, and equal access." These are words that seem especially empty of meaning this fall.
In Sara Ahmed's compelling book, On Being Included: Racism and Diversity in Institutional Life (Duke, 2012), she warns against policies substituting for action. This strategy of substitution, or redirection of effort away from fundamental systemic change, has been refined over the years at most educational institutions. She asks: "What does it mean to be good at equality or diversity, or for equality or diversity to be a measure of good?…When diversity work becomes a matter of writing documents, it can participate in the separation of diversity work from institutional work. Diversity becomes a matter of rearranging things, so that an organization can appear in the best way." Ahmed continues:
The arrival of audit systems into higher education involves adopting self-regulatory mechanisms from the private sector, in particular from finance, by the public sector. …Institutional performance involves an increasing self-consciousness about how to perform well in these systems, by generating the right kinds of procedures, methods, and materials, where rightness is determined as the fulfillment of the requirements of a system…. Doing well involves generating the right kinds of appearance. (pp. 84-87)
Ahmed's book is full of stories of compliance, paper-shuffling, and angry and frustrated staff who feel that diversity and inclusion have been hollowed out in the regulatory, auditable methods of our institutions. I'd like to think that perhaps if we play Admin Lingo Bingo it is possible that we might begin hearing ourselves speak and then challenge ourselves to walk that talk.