Update in 2019: I wrote a short piece on WITS in 2013. This blog post started my investigations.
For about a year I have been following FemTechNet and now I have joined a group committed to teaching a course on feminism and technology this next fall, distributed over about 20 campuses. When Chip Bruce was in town recently, he reminded me of the Women, Information Technology and Scholarship (WITS) colloquium that met at the University of Illinois, Urbana-Champaign (UIUC). WITS helps connect those of us in FemTechNet with an earlier effort.
WITS began in 1991, twenty-two years ago! The impetus for the group was provided by Australian author and educator Dale Spender, who gave a talk on the UIUC campus in 1991: "Feminism Does Not Compute: The Computer Age—Implications for Feminism." WITS was an invitation-only group, proposed by Dale Spender, Cheris Kramerae, then professor of Speech Communication at UIUC, and Jeanie Taylor, then Associate Director of the UIUC Center for Advanced Study (CAS). CAS supported the group for five years, until 1996. The aim was to explore gender equity and information technology among various disciplines, represented by about 35 people identified across campus. By the second year, 1992, WITS had an advisory group, its own electronic mailing list, and T-shirts! That summer, Jeanie and Cheris presented the WITS idea to a Gender, Technology and Ethics conference in Sweden. During the spring of 1993, there was a WITS reading group about "Women in Architectural Space" and the following year, several WITS women joined with women in Chicago to prepare for the UN Conference on Women in Beijing in September of 1995. After 1996, the group met for another two years at the Graduate School of Library and Information Science (GSLIS). The spirit of collaboration and innovation still thrives at GSLIS, if I do say so myself (since I work there)!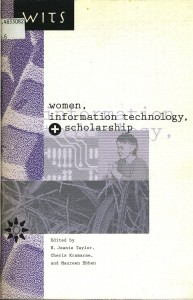 What I had not known before my conversation with Chip was that WITS published an edited book in 1993 reflecting on their discussions about "the politics of information technologies processes." [1] They asked how "gender, race and class hierarchies are made part of the circuitry in new information technologies." "We know," they wrote, "that many campus discussions about new information technologies are actually discussions about the reconstitution of race, sex and class hierarchies in the new systems." (3) The WITS group of faculty and academic professionals initially met at least once a month, sponsored speakers, and organized workshops. In the book, in addition to lists of colloquium presentations, electronic resources, and publications, there were articles about access, training, pedagogy, and publishing. I learned about the Electronic Salon at Lewis and Clark College, held in April 1992, an early example of a "cyberspace of our own." Another effort was that by Judy Smith, project director for Women's Opportunity Resource Development (WORD) in Missoula, Montana, in 1992; she introduced many "reluctant users" to IT.  WITS members noted that "very little of the research on women and minorities is included in existing and developing electronic databases of the humanities and social and behavioral sciences…. If women aren't involved in the classification systems of the new electronic publishing, women will be excluded not only in the texts but also in the meta-texts." (23) Jo Kibbee, who went to England in 1992 to research the Joint Academic Network (JANET) there, noted the importance of WITS in studying this early electronic network, providing "an enthusiastic and supportive environment in which intellectual (and technological) curiosity can prosper." (75) JANET was "one of the first networks to target libraries," according to Jo.
In 1996, Betsy Kruger and Jo Kibbee co-authored "The Women, Information, Technology, and Scholarship (WITS) Colloquium at UIUC: Feminist Model for Education and Activism on Campus," in Feminist Collections, 17:2, pp. 38-39. In addition to explaining the programs and structure of the group, the article mentioned a brochure that WITS developed and distributed in 1995, "Gender Equity in Global Communication Networks: A Global Alert." The WITS group launched a website as well in 1995, called the WITS Policy Quilt, and other groups were invited to share their policy recommendations online.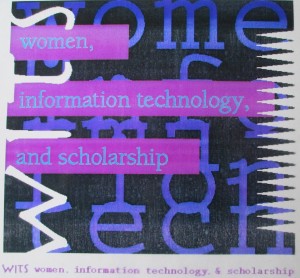 This post on WITS was a great excuse to connect or re-connect with friends about WITS: thanks to Jo Kibbee, Bea Nettles, and Jeanie Taylor. Jo lent me her transparencies (remember overhead projectors?) from a talk she gave about WITS. Apparently there was initial difficulty bridging between women in science and engineering and those in the humanities and social sciences; WITS members worked to develop programming that would meet the needs of a range of disciplines.
Other WITS participants—there were about 35, but membership rose to 50 in the mid-nineties–are still in Urbana-Champaign: Kathryn Anthony, Jenny Barrett, Colleen Bushell, C. L. Cole, Ramona Curry, Leigh Estabrook, Nan Goggin, Frances (Jacobson) Harris, Gail Hawisher, Christine Jenkins, Vicki Jones, Betsy Kruger, Melanie Loots, Radha Nandkumar, Kathy Perkins, Celeste Quinn, Shang-Fen Ren, Dianne Rothenberg, Linda Smith, Beth Stafford-Vaughan, Angharad Valdivia, Liesel Wildhagen, Marianne Winslett, and Joyce Wright. Sadly, WITS members Kate Cloud and Leigh Star died in 2010; Jean Peterson died in 1998. (These names were taken from the WITS directory of 1994-95, supplied to me by Jo Kibbee.) These women represented fields from anthropology, architecture, and atmospheric sciences to radio and theatre, from cinema studies, graphic design, and library science to photography, physics, psychology and writing studies.
Jeanie noted that "one of the great things about WITS is that it continued to have impact beyond those years–WITS folks serving on university technology committees and books published…." Given that I am co-teaching the FemTechNet course with Sharra Vostral and C.L. Cole (Cole was part of WITS), the impact of WITS endures still.
[1] H. Jeanie Taylor, Cheris Kramarae, and Maureen Ebben, eds. Women, Information Technology + Scholarship: Women, Information Technology, and Scholarship Colloquium  (Urbana, IL: Center for Advanced Study, 1993).