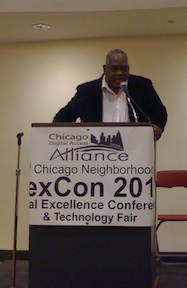 In late October, I went to Chicago to join folks from across the country for DexCon 2010, the First Chicago Neighborhood Digital Excellence Conference, a convening of activists and others interested in community technology in Chicago. The major organizers were Pierre Clark, Thom Clark and Michael Maranda. It was a full day at DePaul University downtown, providing a chance for people to come together around enduring and shared concerns. I have mostly highlighted links and organizations that I think are useful to know about.
Thom Clark, president of the Community Media Workshop, started out the day by recalling a Community Media Summit about ten years ago in Boston, and CivicNet, about a dozen years ago in Lawndale in Chicago, which were also efforts to network communities. It continues to be a goal of many of these folks to jumpstart a distributed community network, reviving work by CTCNet, and Association for Community Networking (AFCN). (I heard conflicting and ambiguous references to the status of these organizations.)
Next, I went to one of the parallel workshops on Digitally Empowered Youth. Rose Mabwa, of the Illinois Consortium of Neighborhood Networks–about forty or so technology centers that leverage resources to serve their constituencies, especially youth–reported on a pilot collaboration during 2010 with the Museum of Science and Industry and the National Aeronautics and Space Administration (NASA). Jet Propulsion Laboratory scientist David Delgado skyped in to tell us about his work with STEM education and the Mars project. (STEM education is Science, Technology, Engineering and Math, which, obviously, leaves out a swath of learning styles and areas, but that is another story.) So Delgado and Mabwa discussed their hands-on work with about 30 youth related to the question, "What would it be like to live on Mars in the future?" Participants were asked to create a "society" from the ground up, and solve problems such as food and water access, and addressing radiation and weather issues. Delgado has been involved with this educational effort across the country, working with students, teachers, and web-based curricula. Then Salome Chasnoff of Beyondmedia spoke. She is also co-chair of Chicago Youth Voices Network. Beyondmedia is now ten years old, and focuses on using media arts to enable youth and women to express themselves and social justice. Programs include Girls Action Media, Women in Prison, and Q'd In Media (for LGBTQ youth). Chasnoff focused on Chain of Change, which was a recent effort by youth to end violence, using videos, blogging, and other means. They are currently raising funds for a Chain of Change van that would be a mobile production studio. Another youth campaign was "HIV/AIDS: It's Viral," which included a youth activism guide and a blog as well. Denise Zaccardi, founder and executive director of Community TV Network, spoke next. They offer drop-in times for folks to come in and create video. Sandee Kastrul then spoke about i.c. stars, a program for future technology leaders, that begins with an intensive four-month internship, followed by two years of practical experience, and more support for the subsequent three years. Interns must have a GED or high school diploma and six months of work experience. The participants create a business plan for a venture capitalist; submit to a competition for a Fortune 500 company; and build a large-scale application for a non-profit. In 2005, they started a program called Bridges, which partners with city colleges and is merit-based. i.c. stars promotes a shift from consumers to innovators and a "bigger than you" sensibility. The interns receive $600/month as a stipend (because the days are long and another job is not viable), and during their practica they are paid $12-20 an hour, depending on the job. All of these groups are constantly raising money, writing grants, and providing "fee for service" work to support their missions.
Next up, I went to the Building a Solid CTC/PCC workshop. This panel featured Vince McCaskill talking about Sunshine Gospel Ministries, which focuses on mercy, discipleship, and justice in their organization. They manage a number of community technology centers (CTCs), keep them open during the day, and use Network Initiative for Teaching Entrepreneurship to enhance youth skills. They also provide basic computer training. Patty Fisher, of Knowledge Hook-up, on the far southeast side of Chicago, serves a majority of Latino/a people, many of whom have an education level of 5-8 grades, and incomes between $15-$30,000. Fisher's group partners with Olive Harvey City College, churches, politicians, and schools to provide an array of trainings in a very under-resourced area. Their local library, Vodak-Eastside Library, used to just have four computers, but now has up to 16. Similarly the overcrowded elementary school (1500 kids!) had only 25 computers in 2006, but now has more (but probably not enough.) Ms. Fisher highly recommended materials on gcflearnfree.org (hosted by Goodwill Industries), Beehive (run by One Economy) and Learn the Net, for all sorts of information of use to underserved populations. Maritza Chavez then spoke about her work at Erie Neighborhood House. She is involved with the Technology Education Services Program. She began as a student in the program and has thrived in the setting, now as a leader.
Lunch was packed with conversation and interaction, prior to an awards ceremony. I got a little acquainted with the keynote speaker, Nicol Turner-Lee, with whom I shared a table. She is vice-president and director of the new Media and Technology Institute of the Joint Center for Political and Economic Studies in Washington, DC. Awards were given: to Carl Davidson, a long-time Chicago-based activist who was inspired by civil rights activist Bob Moses, and who had recently returned from Mondragon, Spain, a worker cooperative federation; Julia Stasch, Vice President of Human and Community Development at the MacArthur Foundation; and Representative Constance Howard. Dr. Turner-Lee spoke animatedly about broadband deployment and its relevance to digital literacy and excellence. She highly recommended the Charles Benton Foundation's headlines and blog, "Digital Beat."
The after-lunch discussion with Matthew Guilford, Director of the City of Chicago's Office of Technology and Innovation; Drew Clark, Executive Director of the Partnership for a Connected Illinois; Pierre Clark, Co-founder of the Chicago Digital Access Alliance; Licia Knight, Digital Impact Officer of One Economy Corporation; and Don Samuelson, Principal of DSSA Strategies, was effectively moderated by Thom Clark. Pierre Clark referred us to the Intelligent Community Forum. Ms. Knight spoke about youth as technology ambassadors, and One Economy's partnerships with AT&T and Verizon. Mr. Samuelson spoke about his work with seniors and My Way Village. Seniors are fast adopting communications technologies, and he pointed to Connected Living as a tool. There seemed to be a fair number of competing agendas in the room, but the overall message was: "think big, start small, scale fast."
Finally, I attended a paenl on Mashable Frontiers: Open Data, Open Gov. Justin Massa of the Metro Chicago Information Center and Movesmart.org faciliated discussion among Jonathan Eyler-Werve of Global Integrity; Rishi Desai of Smart Communities Humboldt Park; and Peter Haas of the Center for Neighborhood Technology (CNT). There was a lot of talk about data quality and data availability, but of interest to me was the CNT's H+T Affordability Index, which helps people find affordable housing with good transportation access, and Abogo, which helps make transportation costs transparent. Eyler-Werve, who wrote The User's Guide to Measuring Corruption, stressed three things: 1. data sources need to be pinned down; 2. don't put one word labels on datasets (so you don't know the context); and 3. if you have bad data, get more of it. Rishi Desai works with 20-30 organizations in Humboldt Park, all of which need data to make their cases, and often good, helpful data is non-existent. Government websites tend to be user UNfriendly, so the government should share its data and let civic and private sectors innovate with it. They discussed the MetroPulse web data system by the Chicago Metropolitan Agency for Planning and the Chicago Community Trust's Regional Indicators Project as worth watching after it goes live November 17. There was also talk about data management for non-profits, with Indaba Systems as an example.
Thanks to all for a stimulating day!