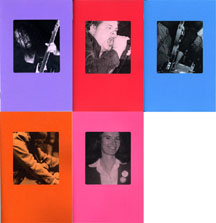 Temporary Services (TS)–through Half-Letter Press–has been producing wonderful little booklets of interviews, which now number five. One of the "Temporary Conversations" was with Jean Toche of the Guerilla Art Action Group (GAAG). Formed in 1969 and enduring through 1976, GAAG consisted of Jean Toche, Jon Hendricks, and Poppy Johnson, with occasional others. The bright orange booklet (2008) that features TS's interview with Toche has illustrations provided by Jon Hendricks.
I really enjoyed driving back from Chicago with Brett Bloom of TS and hearing more about the process of this interview. The entire interview was conducted using snail mail!
One excerpt from the booklet–which you can buy from Half-Letter Press–that has been sticking with me, is a 1971 communique by Hendricks and Toche called Esthetics and Revolution:
TO BE INVOLVED WITH USEFUL LABOR–AS A REVOLUTIONARY ARTIST–YOU MUST:
BE AVAILABLE WHEN NEEDED
FORGET ABOUT IMPRINTING YOUR OWN STYLISTIC ESTHETIC ONTO THE REALITY
DEAL WITH DAY-TO-DAY REALITIES, NOT FANTASIES
BE ABLE TO OVERCOME YOUR PERSONAL HANG-UPS
DEAL WITH ISSUES, NOT PERSONALITIES
BE ACTIVE, NOT REACTIVE
BE ABLE TO WORK ALONE OR WITH OTHERS
BE FLEXIBLE
BE ABLE TO TAKE INITIATIVE WHEN NEEDED
NOT BE AFRAID OF MAKING MISTAKES
NOT BE AFRAID OF BEING INCONSISTENT
BE VERSATILE
BE IMAGINATIVE
GET RID OF PRECONCEPTIONS
CONSTANTLY REDEFINE YOUR ROLE AS REALITY DICTATES.
Seems like a good description for getting through life in general.