Today I stood outside the Native American House as a volunteer docent to answer questions from passersby about the art installation, "Beyond the Chief," by Edgar Heap of Birds. "Beyond the Chief" is a series of twelve signs posted on both sides of Nevada Street on the University of Illinois (UIUC) campus, where the Native American House and American Indian Studies offices are located, along with Asian American Studies, La Casa Cultural Latina, African American Cultural House and African American Studies. The theme is one effort by an internationally-known artist to address the damage wrought by over 80 years of a sports mascot at UIUC known as Chief Illiniwek, a racist depiction of a fictional chief, invented by a band leader in the 1920s to support the "Fighting Illini" teams. Genocide and land theft are among many other deeds and ideas that the European invasion wrought on indigenous peoples.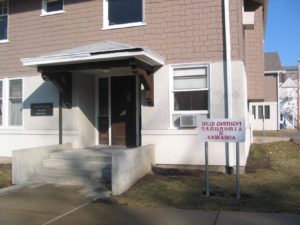 Heap of Birds' red and white metal signs, which at first glance look like official informational signs, include the words "Fighting Illini" written backwards, over the words "Today your host is…" and then the names of twelve tribal groups. This area was the homeland of Peoria, Piankesaw, Wea, and Kaskaskia peoples. Others passed through what is now Illinois, including Kickapoo, Odawa, Sac, Peoria, Ho-Chunk, Potawatomi, Myaamia, and Meskwaki people. The signs line both sides of Nevada Street, starting at the corner, on the lawn in front of the Department of African American Studies, and then they are placed near the sidewalk so that one can move along to view each one. The Pienkesaw sign in front of La Casa is in Spanish; other signs in English, Japanese and Korean, if I remember correctly. While Heap of Birds has produced these textimages on other campuses, this is the first time he has used languages other than English.
As Heap of Birds has written: "As we install these 12 sign panels, we walk forward on the University of Illinois campus to honor these ideals and intertribal brothers and sisters from a circular position of respect." The signs will remain through December of 2009, unless the university purchases them.
My friend, the writer Carol Spindel, who wrote Dancing at Halftime: Sports and the Controversy over American Indian Mascots (NYU Press, 2000), joined me for our two-hour "street talk." She stood on the corner by a stop sign, and I stood between two signs across the street, in front of Native American House. Carol seemed engaged in quite a few conversations; I myself talked with sixteen people, singly or in pairs, over the course of a sunny afternoon. ShinJoung Yeo, a doctoral student in Information and Society, inspired this "street docent/librarian" idea when we had dinner together last week. She described a group that she helped start in 2004, Radical Reference. Volunteers basically took to the streets during the Republican National Convention in New York City and helped people get the information they needed—from where the nearest bathrooms were, to how to find a lawyer, to where there were clashes with police. People who weren't on the street provided information via cellphone to those who were fielding questions. I thought it was a brilliant solution to everyday people's needs.
Last week, artist Edgar Heap of Birds returned to the UIUC campus because his signs were vandalized three times since their installation in February. Director of American Indian Studies Robert Warrior invited him back for a brief visit for a forum to address the campus climate and vandalism. Sadly, this is the first campus installation in which his art has been damaged. Professor Heap of Birds encouraged those of us in the audience to take action, to make offerings to honor those who have gone before, to bring gifts to tie to the signs to help protect them, and to talk about the art around campus. Thus, ShinJoung's idea of a "street librarian" prompted Carol and me to stand by the signs and interact with those pedestrians who paused to talk with us. While I didn't have lengthy conversations, it was good to be able to talk with people about their thoughts about the art, and answer a few questions about the artist. I hope to do this again regularly.