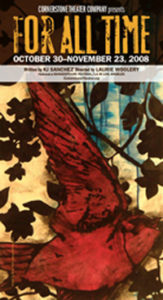 A friend recently asked me what two things I learned from attending the annual conference of Imagining America in early October 2008. In general, I will say that 1) it matters to see people in their home milieu, and 2) it demystified public engagement work for me. The conference was quite small, and mostly West Coasters, which makes sense given that it was in Los Angeles. So to be able to see what Angelenos are doing in Los Angeles meant that I saw evidence of incredibly hard work, against tall odds, by a relatively few people.
Judy Baca gave the keynote address and told the story of the Social and Public Art Resource Center, which she founded in Venice (CA) thirty years ago. Now with a certain level of support, she creates digital murals at the Cesar Chavez Digital Mural Lab, funded by the University of California, Los Angeles, where she is on the faculty. I wrote about that Lab in a previous post on April 11, 2008.
So many other activities from the last few years had a presence in Los Angeles:
The Bresee Community Center and the Echo Park Film Center, among others, supported youth in creating media about important issues, like gentrification. Stephanie Cisneros, for example, created "Echo Park: A Different View," which is about 8 minutes long and available on YouTube. Some of the Spanish-to-English translations are a little off, but it gives a real feel for a rapidly changing neighborhood around 2004.
Homeboy Industries and Homegirl Cafe, started by Father Greg Boyle, provides jobs for former gang members and good food for the community. I brought home a copy of the DVD, "Father G and the Homeboys," narrated by Martin Sheen. It tells the story of an organization being built up, burned down, and otherwise hugely challenged over the last twenty years.
I was able to see a read-through of the Cornerstone Theater's "For All Time," part of their Justice Cycle. This featured a large cast depicting experiences and attitudes toward punishment and retribution on the part of victims, families, and incarcerated people.
Michael John Garces and Paula Donnelly from the Cornerstone Theater led a group of about 40 of us in an engaging workshop on "Turning Community Stories into Art." The Cornerstone is an ensemble-based company in LA that combines professional actors and community members in productions that are often original works. They've been refining their techniques for over twenty years. It was great to participate in their cultural mapping exercises, and sample some of the ways they draw stories out of people with whom they co-create performances.