Tag Archives:
contemporary_art
I have been lucky to know Sabra Moore since 1990, when I met her at a Women's Caucus for Art meeting. I was so pleased when her wonderful memoir about her roles in the women's art movement in New York City, Openings, came out in 2016. Over the years she has sent me many beautiful creations and the most recent one arrived today, truly lifting me up.
In November of 2017, I got a letter asking for support to repair her pickup truck, which takes a real beating on the roads around Abiquiu, New Mexico. In exchange for a financial contribution, she committed to make an artwork. I was to select a format and a word. I chose an item that could hang free in space and my word was "wings." There is a lot more to say, but I just have time to post photographs today. Thank you so much for my Wings/Swings, Sabra! Sabra also did an amazing packing job!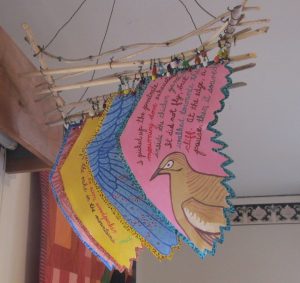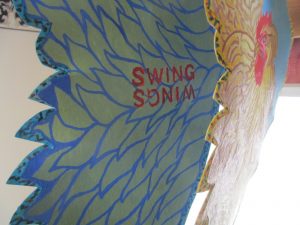 I know a lot of people who blog. Lately, I have been blogging on other websites, which I think is a delightful way of connecting. Kasalina Nabakooza is a photographer and a recent graduate in Comparative Literature from New York University. She lives in Brooklyn and began an exchange with me via email. Her website includes wonderful portraits of people on the street, in addition to this "interview" that we did.
Today, in time for Hallowe'en, a blog post I wrote on Lady Gaga's meat dress went live on the blog of University of Minnesota Press. A version of the meat dress by Jana Sterbak, c. 1987, is part of the Walker Art Collection in Minneapolis. It is called "Vanitas." Thanks to Maggie Sattler for inviting me to blog for the Press.