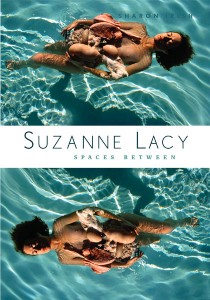 Suzanne Lacy: Spaces Between is my latest book. Watch the trailer here to find out what inspired the book. I worked with Bonnie Fortune to produce book trailer. I have been able to give some lectures about the book, in Urbana and Normal, Illinois, and Vancouver, British Columbia, so far! See the Links page for some of my other publications.
Now available for purchase online at Amazon and the University of Minnesota Press.
The central themes of my book, Suzanne Lacy: Spaces Between, are: using a scheme of networks to analyze Lacy's multifaceted art; considering gendered, racialized bodies in terms of positionality and performance; and recognizing participation's intertwining with reception. Here's a summary of the book, chapter by chapter:
Chapter One, "Visceral Beginnings," considers Lacy's educational paths with the Feminist Art Program in Fresno, California, and then with Sheila de Bretteville and Allan Kaprow at CalArts in Valencia. Works from the seventies–Rape Is and Ablutions (both 1972)–represent two contrasting formats, an artist's book and a collaborative performance, that confronted sexual violence. Her white female body provided source material and methods for those works, which also linked to Lacy's later explorations of violence. I argue that physical embodiment and positionality are critical to the meanings and understanding of Lacy's work.
Chapter Two, "Embodied Networks," takes a look at the literal and metaphorical use of networks in Lacy's performative art: "Net Construction" (1973); "Construction of a Novel Frankenstein" (1974-75); "One Woman Shows" (1975); "Prostitution Notes" (1974-76); "Anatomy Lessons" (1974-77) and "Cinderella in Dragster" (1976). Lacy used solo and collaborative performances, map-making and collage, as well as writing, photography and video to question the limits of the body and the self. The Feminist Studio Workshop and the Los Angeles Woman's Building were key organizations for Lacy in the seventies.
Chapter Three, "The Urban Stage," considers the city-wide expansion of Lacy's projects, particularly "Three Weeks in May" and "In Mourning and In Rage" (both 1977, with Leslie Labowitz). Lacy co-founded Ariadne: A Social Art Network in 1978. Ariadne organized a series of events around violence against women in that same year: "From Reverence to Rape to Respect"(Las Vegas) and a "Take Back the Night" performance (San Francisco). Participation in these performances shaped the form, content and reception of these works.
Chapter Four, "Convergence," is concerned with several large-scale performances in the eighties: "River Meetings" (1980); "Immigrants and Survivors" (1983); "The Dark Madonna" (1986) and "The Crystal Quilt" (1987). Most were framed by an architectural or urban space, temporarily claiming that space for an issue-based performance, which in turn redefined the meanings of that public or semi-public space. These combinations of image, movement, sound, and space had antecedents in earlier experimental film as well as the pageants of the early-twentieth century suffragists. As with the suffragists' pageants, the spatial aspects of Lacy's events both challenged and affirmed social hierarchies.
Chapter Five, "We Make the City and the City Makes Us," focuses on a piece in Chicago that used multiple sites in the city, "Full Circle" (1993). This city-wide organizing, over an extended period, with attendant workshops, dinner performances and videos, established a reciprocal relationship with urban structures, deepening the meanings both of sites in the city of Chicago and of Lacy's piece. Both Chapters Five and Six stress the ways in which built space has been an important component of Lacy's large-scale works.
Chapter Six, "Turning Point," takes a close look at The Turning Point and the performance, "Under Construction," that Lacy did in 1997 in Vancouver. The differences between Lacy's public art and community cultural development created problems, but the work also offered opportunities to young women and the city as a whole.
Chapter Seven, "Teens and Violence," considers Lacy's extensive work in Oakland, California in the nineties: "The Roof Is On Fire" (1994); "No Blood/No Foul" (1996); and "Code 33" (1999). Her 1998 collaboration with Colombian anthropologist, Pilar Riaño-Alcalá, "La Piel de la Memoria/The Skin of Memory," broadened Lacy's considerations of community violence.
By way of conclusion, "Spaces Between, Still Inter/Acting," returns to themes of the body, its spiritual dimensions, and coalitional politics.
Lacy has shown an enduring commitment to using art in public to inform people about issues of common concern to affect policy. I suggest that the "spaces between" in her art provide openings that might be transformative for selves that are permeable and multiple. Diana Fuss noted in 1991: "The problem, of course, with the inside/outside rhetoric, if it remains undeconstructed, is that such polemics disguise the fact that most of us are both inside and outside at the same time." We perform, moving between art and life, built space and human flesh. This "between-ness" creates tension, at once dynamic and troubling. To enact these relationships in reality, on the ground so to speak, is especially difficult given the separation from, indeed denial of, our bodies. Lacy's art has embraced the body, deepened into spirit, and enhanced bodily wisdom with strategic, intelligent analyses of politics. Her international career has demonstrated the power, problems and possibilities of art between the spaces of our diverse lives, as she has attempted to create structures that might give shape to a non-sexist, multi-racial democracy.